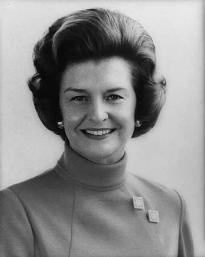 Americans never elected Gerald R. Ford president or even vice president—Richard Nixon appointed him after Vice President Spiro Agnew resigned in October 1973. Today, Ford's brief presidency is often forgotten. Yet during Ford's two-and-a-half years, his wife, Betty, became the most controversial first lady since Eleanor Roosevelt. Peddling their marriage as a "normal" partnership struggling with the challenges of modern family life, Betty Ford inserted herself at the flashpoint of the country's social upheavals. Her boldness may have cost her husband the presidency in 1976.
The Fords were mismatched; he was square, she was hip. Still, the marriage worked. Through his workaholism, her breakdowns, his condescension, and her anger, Betty and Jerry remained in love.
By 1975, Betty Ford had emerged as an outspoken feminist activist. Her candor unsettled the President and his advisors. They feared alienating conservatives who were already disenchanted by the fall of Vietnam, Ford's liberal Vice President Nelson Rockefeller, and détente with the Communists. As Ford's popularity dropped, the First Lady's adoring press coverage only complicated matters.
On September 27, 1974, less than two months after the Fords' surprise move into the White House, Betty Ford was diagnosed with breast cancer, then underwent a mastectomy. Although reporters had publicized presidential illnesses since Dwight Eisenhower's heart attack, they covered first ladies' ailments discreetly—until now. The Fords' personal trauma became a national event. In the age of full disclosure, the White House was candid, the press insatiable. More than 50,000 Americans sent Betty Ford get-well cards. A disease so frightening that many whispered its name was partly destigmatized. Checkups increased by 300 to 400 percent. Among the women getting mammograms was Mrs. Nelson Rockefeller, the wife of Ford's new vice president. Within a month, Happy Rockefeller had also undergone a mastectomy.
Overnight, Betty Ford became a national hero for having "saved many lives" by example.[1] Betty Ford's gift to millions of women would define her tenure as first lady: "Lying in the hospital, thinking of all those women going for cancer checkups because of me, I'd come to recognize more clearly the power of the woman in the White House." The power was educational not political; it stemmed from her fame, not her influence: "I felt I hadn't even begun to work effectively for the causes—the Equal Rights Amendment (ERA), mental health, the fight against child abuse, the fight against the abuse of old people and retarded people—that I cared about."[2]
Feeling "reborn," Betty Ford left the hospital determined to use this extraordinary platform. This unelected wife of an unelected president would plunge into national debates over personal and political events in unprecedented ways.
Only five more states had to ratify the ERA by 1979 for it to become part of the Constitution. Overcoming her initial reluctance to lobby, she sent a few letters and called wavering legislators. Some were flattered, having "never been called by a First Lady before."[3] Others resented her effrontery. White House mail ran three to one against the First Lady's lobbying. For the first time since Eleanor Roosevelt's day, pickets on Pennsylvania Avenue protested against the president's spouse. They demanded: "BETTY FORD GET OFF THE PHONE!"[4]
Although many of the President's aides again insisted that first ladies should be seen and not heard, Betty's own aides began arranging more interviews. One interview was for the TV news magazine 60 Minutes—with the urbane Morley Safer, not the pugnacious Mike Wallace. The interview was postponed repeatedly. The CBS crew attributed the wait to the First Lady's rumored "drinking problem."[5]
Betty disarmed her critics with intermittent candor. She admitted that she drank "occasionally, with my husband" and took tranquilizers. Hints crept into dispatches about "halting speech" or a distracted stare. But most journalists preferred praising the frank, feminist first lady rather than exposing the erratic, sedated political wife.
Married in 1948, during Jerry's ultimately successful campaign for Congress, Betty gave birth to three boys and a girl over the years, while Jerry became a leading House Republican. Press profiles through the years celebrated the Fords' traditional marriage. Yet each triumph for him was a setback for her. "The Congress got a new Minority Leader," Betty would say of 1965, "and I lost a husband."[6]
In 1964, she pinched a nerve in her back. The child of an alcoholic, Betty hid her pain with a smile and took refuge in the bottle. Eventually, she saw a psychiatrist and took medication. For all her apparent candor, Betty Ford remained ashamed. When as first lady, she would rejoice before the National Association of Mental Health Centers that visits to psychiatrists were no longer a "hush, hush" thing, she still claimed that "my problems were physical."[7]
Jerry and Betty Ford offered a joint platform to an anxious nation. They hoped to give the country "the same feeling that we have had as a family, a feeling of unity and harmony and warmth."[8] The Fords were not the perfect couple the Nixons pretended to be. The countercultural "anti-image" of the family changed attitudes toward political wives. Woman reporters searching for role models loved the Fords. Jerry's habit of making his own breakfast was seen as a triumph for women's lib.[9] When Betty appeared before Republican women in Chicago, the banner behind her read: "YOU'VE COME A LONG WAY BABY."
Betty Ford did not understand why this "job" was unsalaried. But if she had received a salary, she would have been docked pay for dereliction of duties. Between her health problems and her mood swings, her attendance was spotty.
This backdrop guaranteed probing queries about the Fords' "manners and morals" when Betty Ford met with Morley Safer for an interview broadcast August 10, 1975. Safer asked, "What if Susan Ford came to you and said, 'Mother, I'm having an affair.'" Replied Betty, "Well, I wouldn't be surprised. I think she's a perfectly normal human being like all young girls."[10] When he heard the answer about Susan, the President threw a pillow at his wife, saying, "You just lost me ten million votes." He soon raised it to "twenty million."[11]
Betty Ford had provoked a nationwide symposium on morality, revealing a deep chasm in American culture, as well as conflicting definitions of a first lady's role. On Today, a psychoanalyst applauded her nonjudgmental parenting.[12] Others championed this new kind of first lady, humane, candid, "real," and "hip," while denying that a first lady had to play "Miss America grown up."[13] But the conservative columnist William F. Buckley blasted Mrs. Ford for trying "to rewrite the operative sexual code of Western Civilization."[14] Some critics explained to Mrs. Ford, "You are, because of the position your husband has assumed, expected and officially required to be PERFECT!!"[15]
Gerald Ford's popularity dropped within weeks from 55.3 percent to 38.8 percent.[16] By October, the East Wing would count 23,308 "con" letters, 10,512 "pro." Mrs. Ford felt vindicated on November 10, when a Harris Survey confirmed one of the central facts of modern politics—notoriety feeds popularity. Sixty-four percent of those surveyed now applauded Mrs. Ford. Louis Harris proclaimed her "one of the most popular" first ladies.[17] This poll spawned the myth that Betty Ford was a political asset and that the 60 Minutes fiasco ended well. Outspokenness became her "trademark," her "project."[18] Betty's candor helped caricature her predecessors—Pat Nixon was robotic, Lady Bird Johnson's beautification was frivolous, and Jackie Kennedy was dilettantish.
In fact, Mrs. Ford's candor may have killed the Ford presidency. She alienated the President's right flank just when the right-wing populist Governor Ronald Reagan was tempted to seek the Republican nomination and Ford needed to shore up conservative support. As the tough 1976 campaign began, Jerry's approval ratings dipped below 40 percent; Betty's ratings continued to rise.
During the campaign, Betty danced, mugged, hugged, hobnobbed, and mouthed niceties. People greeted her with an enthusiasm her husband did not generate. In a personality-oriented political culture, personality-obsessed journalists called Betty Ford "the President's greatest asset."[19] Campaign buttons subordinated the President, roaring: "ELECT BETTY'S HUSBAND, KEEP BETTY IN THE WHITE HOUSE."[20]
In this final act of the Ford drama, Betty returned to her role as the dutiful spouse. She would campaign "as his wife," trying "to communicate him to the people," rather than addressing "the issues."[21]
Betty wanted to reject the first lady's genteel straitjacket: "My advice to anyone as First Lady would be to be herself. . . . No one should have to live up to a standard."[22] After he lost, the Fords' return to private life was eased by a lucrative his-and-hers book contract.
Contrary to blurry popular memories today, it was only after she left the White House that Betty Ford confronted her addiction to pills and alcohol. A steep downslide culminated in a family intervention in 1978. But, as with her breast cancer, Betty Ford went public with her woes—and became a national icon. After successfully undergoing treatment at a facility, in 1982 she founded what became the Betty Ford Center in Rancho Mirage, California. Betty Ford helped revolutionize American attitudes toward addiction, encouraging family interventions, intensive treatments, and candor about drug and alcohol abuse that had traditionally been wrapped in silence and shame.
Still, as first lady, Betty Ford was the neurotic wounded political spouse reporters thought they saw in Pat Nixon. Mrs. Nixon and Mrs. Ford offered dramatically different images, of silence versus candor, of stoicism versus activism, of 1950s idealism versus 1970s iconoclasm. Americans would spend the next three decades trying to reconcile traditional culture with the new sensibility. Members of the presidential couple would find themselves torn between traditional values and modern media demands, between the kind of couple the Nixons tried to be, and the kind of couple the Fords actually were. Nancy Reagan and Hillary Clinton would learn from adversity that Betty Ford–style candor remained problematic; most first ladies, including Barbara Bush, Laura Bush, Michelle Obama—and Hillary Clinton as the Clinton presidency ended—would appreciate the unspoken protocols of being first lady, which placed gossamer shackles on the presidential spouse, encouraging discretion and tradition even in a world Betty Ford helped make more frank and modern.
---