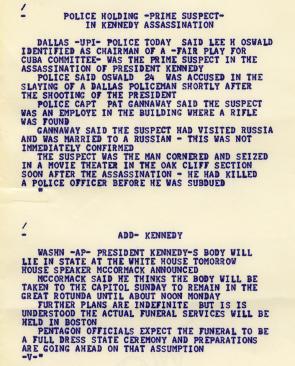 On November 22, 1963, President John F. Kennedy was assassinated by Lee Harvey Oswald in Dallas, Texas. This Dow Jones News Service ticker tape tells the story of that day as it happened. The fifteen sheets span the entire day of the assassination. The tape starts out mundanely enough, noting Kennedy's morning speech in Fort Worth and his plans to appear in Dallas later in the day.
The reports turn grim, however, reporting the panic, confusion, and tragedy of Kennedy's murder. An initial report of the shooting describes the scene: "PRESIDENT KENNEDY WAS SHOT TODAY JUST AS HIS MOTORCADE LEFT DOWNTOWN DALLAS — MRS KENNEDY JUMPED UP AND GRABBED MR KENNEDY — SHE CRIED OH NO— THE MOTORCADE SPED ON." Another notes that the President has been taken to a hospital, but "TWO PRIESTS WHO WERE WITH KENNEDY SAY HE IS DEAD OF BULLET WOUNDS." An update soon confirms the report of the President's death: "KENNEDY DIED OF A GUNSHOT WOUND IN THE BRAIN AT APPROXIMATELY 1 P M."
Further updates try to make sense of the events, reporting on the search for an assassin and Oswald's capture. The tape also reports Vice President Lyndon Johnson's swearing in aboard Air Force One that afternoon: "MR JOHNSON BECAME THE 36TH PRESIDENT OF THE U S AT 2 39 CENTRAL STANDARD TIME — THE PLANE MARKED AIR FORCE 1 WAS STILL PARKED WHERE IT HAD LANDED TO BRING PRESIDENT KENNEDY TO DALLAS THIS MORNING."
A full transcript is available.